In June of 2013 was commemorated in Vitoria (Álava) and La Puebla de Arganzón (Burgos), the bicentenary of the Battle of Vitoria (June 21, 1813), with historical recreation activities and multiple cultural acts, exhibitions, public events, conferences, lectures, guided tours of the battlefield, etc.
Views, the good reception there was the good receptioby the population of the area (over 25,000 spectators) and 400 reenactors attended by a small group of enthusiasts decided to create ASSOCIATION OF HISTORICAL RECREATION "BATTLE OF VITORIA 1813" with the idea that these commemorations endure over time and keep the memory of the Battle of Vitoria as a historical fact that both influence the future of the world alive.
The first challenge was to organize together the council, the council, other local associations and the invaluable assistance of recreation groups veterans, the 2nd International Recreation Battle of Vitoria, had been organizing usual two years later in 2015, but coincide with the bicentenary Battle of Waterloo, hence the decision to organize in 2014 it took only a year later and from that year realize biennial (even years), alternating with Waterloo (odd years).
Once all the paperwork and formed the Association, we are dedicated himself to the organization of the 2nd recreation, the success of the 1st recreation had set the bar high, but the effort paid off and the 2nd recreation was another success 400 reenactors participation and attendance with 27,000 spectators. During that year the Association grew in this recreation were present with 7 reenactors and 10 members in the organization.
The inclusion of Vitoria as the first Spanish city in the circuit Napoleonic Cities and success of the two recreations, has placed the Battle of Vitoria as one of the most important recreations nationally and internationally renown.
The Association continues to grow, with more than forty members of Álava, Vizcaya and Burgos. Recruits are gearing up and start receiving instruction, the oldest and attend recreations of the hand of our comrades in Lerma. In the bicentenary of the Battle of Waterloo will present 10 members of the Association.
Expectations are high, the immense problems, scarce resources, but morale is high, the objectives are clear, we can only keep working hard to get the next recreations remain a success and publicize this period of history our city.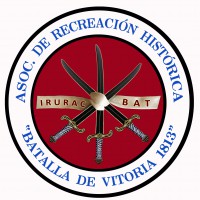 Grettings