The second battalion of the 100th French line Infantry Regiment, is forming at his headquarters in Vittoria.
WE NEED:
Priests, Doctors, Nurses, Cantinières, Drumeers, Buglers, Grenadiers, Fusiliers, Voltiguers, Gunners, Sappers, historians, Cartographers, Polyglots, Carpenters, Blacksmiths, Cookers …
Whatever your specialty we have a task for you.
No experience is compulsory, just good will.
WE WARRANT:
Marches, Parades, Fighting, Food ranch, Tiredness at the end of the day, Sleeping in tents, Companionship, Unforgettable Experiences, Good and unconditional Friends.
You will not come only once, because we are sure you will repeat and will come back with the family. . .and youwill enjoy it!!
JOINT THE 100th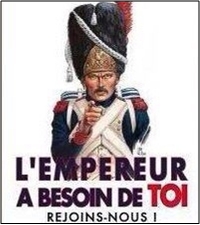 Complete the form below and our Sergeant recruiter will contact you.
Join us in the
"ECOLE DU SOLDAT"
every third Saturday of each month.